That'll Be The Day Christmas Show 2020
For all of us, this will be a Christmas like no other. With festivities just around the corner, we still face so many uncertainties caused by the ongoing pandemic. But one thing feels certain – many older people will be lonelier than ever this Christmas.
Thanks to the Ambassador Theatre Group and the Producers of That'll Be The Day, you now have the opportunity to add sparkle to someone's evening this December by enabling them to listen and watch the best pop Christmas classics and traditional Christmas songs, along with hilarious comedy routines from the comfort of their favourite armchair.
Please purchase a ticket for a streamed performance of That'll Be The Day on an older person's behalf, so that a person experiencing isolation can feel the spirit of the festive season too.
You can purchase a ticket for the live stream, which also includes a download of the event for an older person to replay and enjoy the show over and over this Christmas. Independent Age will ensure your ticket is shared with an older person, so that they can enjoy the show and your generosity this Christmas.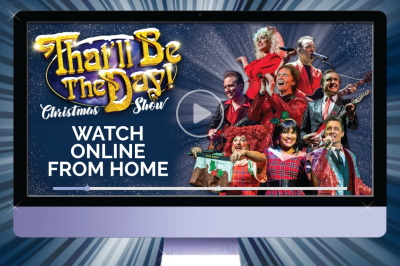 Independent Age is an older people's charity that wants to make the UK a place where we can all live happy, connected, and purposeful later lives. During the coronavirus crisis, we have prioritised our efforts to ensure we continue to provide support to the 3000+ older people with whom we currently work, as well as supporting local organisations providing critical services for older people.
Independent Age provides advice and support on a range of different issues, from money and benefits, to social care and loneliness. The charity has expert advisers on hand to give clear and helpful advice, as well as award-winning written advice guides both online and in hard copy format. Last year, Independent Age provided support to more than one and a half million older people and their families.
We understand the issues faced in later life, campaign for change, and provide support people can rely on – from clear and straightforward information guides to a network of volunteers helping to reduce loneliness and isolation across the UK.
Thank you for making a difference to older people's lives by supporting this really exciting opportunity.