Thank you for choosing to purchase your ATG Theatre Card Gold by credit or debit card. Your membership will be valid for a fixed period of 12 months and will be due for renewal on or before the end of the month shown below.  
Please note that ATG Theatre Cards are posted separately from tickets and gift vouchers.  Membership packs are despatched separately from tickets and gift vouchers and cannot be collected from any of our Box Offices.  Your card will be despatched within 28 working days of purchase.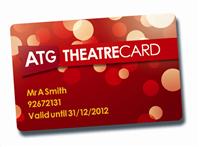 Subject to Terms and Conditions memberships are non-refundable. You have the right to cancel your membership within 14 days of purchase. If you do choose to cancel within this 14 day period, you will receive a full refund upon receipt of your returned membership Card, provided that ATG may charge you for any benefits which you have received by virtue of your membership, including any discounts, promotions, fee savings and priority booking. Theatre Card membership entitles you to opening night offers, priority booking, ticket deals, no extra fees to pay on most shows and for our Gold membership, entrance to the Ambassador Lounge, dedicated host, welcome drink and complimentary cloakroom. Cards are accepted at 38 venues across the UK and in the West End. Card holders must be over 18 years of age and resident in the UK.  Where ticket discounts apply this is subject to a maximum of 4 per member. For full Terms and Conditions please visit
http://www.atgtickets.com/terms-and-conditions/
NB - the description of the membership shows the expiry month, not the starting month.